Thursday, November 28, 2013
Posted by

Kentucky Gem
at 4:19 PM
0 comments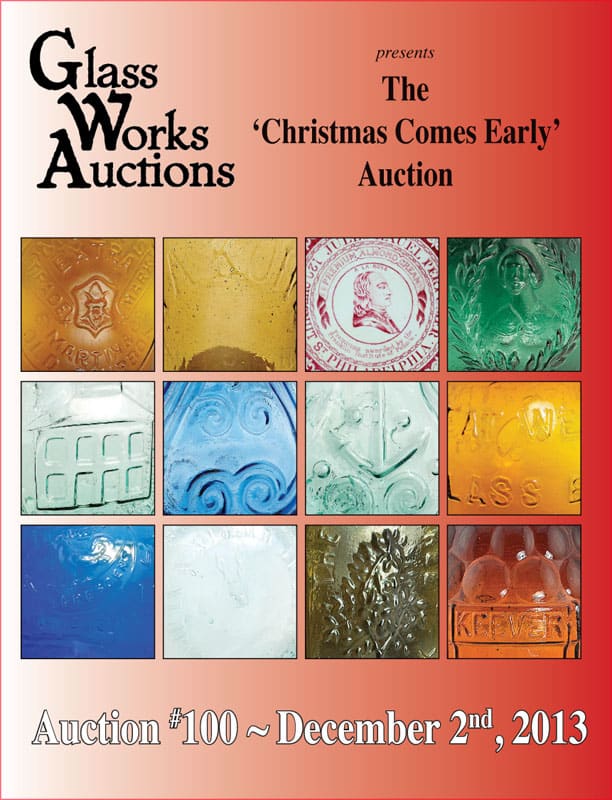 Jim Hagenbuch gets two thumbs up in my book for being offered the consignment rights to the legendary
I still recall pouring through the pages of the December 1977 issue of the "OBX" like it was yesterday. The dig of a lifetime! 1200 bottles in three days of furious digging. The list of killer bottles read like a who's who of stuff to die for. And now, thirty six years later, here they are at auction.
Check out some of the western whiskies!
Posted by

Kentucky Gem
at 9:24 AM
0 comments


Monday, November 18, 2013
I try to keep up on fellow collectors passions. One gentleman that I've followed over the years is Jack Sullivan. He is articulate, well versed and a good writer. And, he shares our passion for western (and eastern as well) whiskies. It is with pleasure that I attach a copy of an article that Jack wrote regarding Wichman, Lutgen & Co. I couldn't have said it better myself.
Thanks Jack. You are a gentleman and a scholar!
__________________________________________________________________
John Lutgen of San Francisco: Unshaken by Quaking
John Lutgen and his whiskey company had gone from success to success in San Francisco, moving each time to larger quarters and in 1906 occupied a spacious building at 29-31 Battery Street. A local writer had opined : Their trade has been prosperous from the start, and has since extended not only throughout the State, but also throughout the coast, their establishment being one of the representative liquor houses of the Golden Gate City. At 5:12 a.m. on the morning of Wednesday, April 18, 1906, one of the greatest natural disasters in American history struck San Francisco and all that changed radically.

Before describing its effects on Lutgen, it is important understand where he came from and who he was. John was born in 1847 near Bremen Germany, the eldest son of Henry and Oddeli
Bottger Lutgen. When he was 11 years old his father died and as the oldest, he was left to carry on the family. As soon as he reached 19 he left Germany, braved an often treacherous ocean crossing and went to work in New York City. After two years in the Big Apple, probably clerking in a store, he set out for California, arriving via the Panama Canal. He quickly got a job with San Francisco grocery where he labored
for six years, learning the retail trade.

By 1871 Lutgen had saved enough money to think about settling down and taking a wife. He was married that year in San Francisco to Miss Sofia Borman, like himself a native of Germany. They would have four children, two girls and two boys. Tragically both sons, named Henry and John, died during childhood.

In 1877, Lutgen teamed up with another German immigrant from Hanover, two years his senior, named Henry Wichman. Described by contemporaries as "of medium size, fair and rather heavy set and reserved and quiet," Wichman appears to have been an excellent foil for the more flamboyant and outgoing Lutgen. They called their firm the Wichman, Lutgen & Company, the name it bore until its demise.
With only modest amounts to invest, their first location was a store front at 809 Montgomery Street, described as an "out the way" district of San Francisco. They remained at that address for two years then relocated to 321 Clay Street. Those quarters soon became too small and in 1879 the partners moved across the street to 318-320 Clay, between Front and Bradley, as noted here on a 1891 trade card. The card identifies the firm as importers of wines and liquors and manufacturers of Dr. Forester's Alpine Stomach Bitters.

The Wichman, Lutgen Company featured Gilt Edge Whiskey as its flagship label and merchandised it as Kentucky bourbon, My surmise is that the partners were rectifiers, that is, blenders of whiskey and that Gilt Edge was a blend. In 1899
they trademarked the name, one that earlier had been used by an Illinois outfit. They bottled Gilt Edge in clear glass flasks and in amber bottles, both painted and embossed. Lutgen showed a flair for merchandising, featuring fetching women on advertising signs for his whiskey and at least once, shown here, giving advertising space to a local shoe store. Fancy monogramed shot glasses were another giveaway item to customers.

In 1904, the firm incorporated with a value of $250,00, several million dollars by today's reckoning. Each partner received 3,998 shares, valued at $25 each. About the same time, once again needing more space, the company moved to the Battery Street address. The number of brands emanating from the firm continued to expand. Among them were "Autocrat," "Foerster's Whiskey Co.," "Forest Lawn," "Forester's Malt Whiskey," "Forrest Lawn Whiskey," "H & H," "Identical," "Marin County Club Bourbon," "Marin
County Club Special," "Old Identical," "Pomona,""Romona," "Silver Edge,""Silver Plover," and "Silver Plover Gin."

Increasingly John Lutgen was being recognized as a major figure in the community. He lived in the nearby suburb of Alameda where he owned, as one observer said "a beautiful residence on Santa Clara avenue, a neat cottage of modern architecture surrounded by a beautiful lawn set to shrubbery and flowers." He was a member of the Board of Library Trustees in Alameda and active in several German benevolent societies and Masonic orders. Although Lutgen and wife Sophia must have mourned the loss of their sons, their daughters grew to maturity and married well. One son-in-law, Frederick Staude, was taken into the firm and listed as its Secretary/Treasurer. Life was being good to the Lutgens.
Then came that fateful morning in 1906. Within 30 hours of the earthquake's first jolt, a firestorm consumed much of San Francisco as an inferno swept through the city for three days. In all, more than 3,000 people died. Twenty-eight thousand buildings were destroyed over 500 blocks of San Francisco. Property damage has been estimated at $235–500 million in 1906 dollars — equivalent to the entire 1906 Federal budget. Today the amount would be between $4.8 and $10 billion. Among buildings destroyed was the Battery Street structure housing the Wichman, Lutgen Company. Going up in flames as well were thousands of barrels and cases of whiskey, the firm's records and all its equipment.

if Lutgen was tempted to quit, he gave no indication. Almost immediately he made plans
to relocate the company into temporary quarters at 431-439 Clay Street to carry on the whiskey trade. Meanwhile he planned, designed, and supervised the construction of a new building at 134 Sacramento Street. The company moved there in 1911, its final home. Meanwhile its whiskey trade recovered gradually in the wake of the quake and fire. Wichman retired from the firm and Staude moved up the management ladder. In a January 1913 trade magazine, Lutgen reported that 1912 had been a very good business year compared to 1911. Despite the "drying up" of certain territories, through an aggressive policy the firm had sold more goods than the prior year. He said he looked forward to
considerably better business in 1913.

Despite his optimism, Lutgen did not survive the year. In November 1913, at the age of 66, in apparent good health, he was stricken following a luncheon and died a few hours later. At his graveside stood his widow, his two daughters and their families, grieving over his coffin. Among mourners was his son-in-law, Frederick Staude, whom Lutgen had groomed as his successor. Staude would guide the firm for the next six years until it was shut down by Prohibition.

John Lutgen's obituary, noting that his demise had been "a grievous surprise to everyone," hailed his heroic post -catastrophe efforts both to
construct a new headquarters and greatly to extend and expand the reputation of his firm. It was reputed to have become one of the leading mercantile houses of the Pacific Coast. The writer added: "In the passing away of Mr. Lutgen San Francisco loses one of her old-time merchants, a man who was respected by all for his integrity and loved for his just character."
Posted by

Kentucky Gem
at 7:11 PM
1 comments


Sunday, November 3, 2013
Try as I might, my "field goal" attempts as of late, have seemed to go wide right, or wide left. The uprights apparently have had a force field that deflected my kicks.
That was, until last week. As you probably recall, I "scored" a couple of BT&P / Oak Run minis replete with label and contents. And so, with the force field down, I marched down field, and scored once again.
Having grown up in the San Francisco Bay area, I am well acquainted with both Stanford and the University of California, "Cal." Although not as intense as it once was, they still have a strong rivalry when it comes to sports. Some things never change.
Football is the big thing in college sports these days, just as it was at the turn of the 19th century. In fact, one of the great tragedies of the era occurred on November 30, 1900 at a sold out Stanford / Cal. football game, which had been billed as "The Big Game".
It was held at

Recreation

Park, on 16th Street. Into this neighborhood massed the largest crowd to ever witness a sporting event west of the Mississippi. They clutched newspapers in which front-page headlines actually used the word "Rah!" up to six times. Some 19,000 onlookers packed the stadium, and thousands more milled about in the dusty streets. Not willing to be denied a chance to watch the game, hundreds of spectators crowded the roof of the new location of the Pacific Glass Works located on Fifteenth Street, which was adjacent to the football stadium. The furnaces had just been lit off for the first time, and when the overloaded roof collapsed, dozens fell onto or into the glass ovens.
The following is an excerpt from an article describing the tragedy~
"Well before the 2:30 p.m. kickoff, the factory's shiny, corrugated iron rooftop was packed with 500 to 1,000 spectators. It "was black with people," reported the Chronicle. "So densely were all the roofs packed, it was a matter of comment among the multitude which thronged the stands on the Folsom Street side."
Every factor that would lead to "San Francisco's direst calamity" was now in place. Factory employees wandered the streets in a futile attempt to locate a cop willing to evict the freeloading invaders. Those freeloaders, meanwhile, were massed atop a rooftop only required to withstand 40 pounds per square inch — hardly adequate for a football crowd, even in a hungrier era when the average Cal or Stanford player weighed 170 pounds. Worse yet, fans clambered to the highest accessible point, the 100-foot-long rectangular ventilator rising 4 feet from the apex of the roof. This open-sided structure was supported only by wooden braces — and, ominously, the fans' perch was directly above the hottest portion of the factory.
Forty-five feet below the thousands of stamping feet, loomed the squat 30-by-60-foot east furnace. Fifteen tons of molten glass bubbled within at 3,000 degrees Fahrenheit — a temperature on par with a red dwarf star. This was the only furnace in action that day. More observant fans would have noticed the capping atop the chimney behind them glowing red as it emitted a persistent plume of smoke.
But the action was in front, not behind. And even onlookers who grew uneasy couldn't negotiate the crowd to descend. "I don't know how many hundred people were up there, but there wasn't an inch of standing room to spare,"
Arthur Schwarz
told the Examiner. So they made the most of it: "All of us were laughing and jesting,"
Charles Taylor
told the Chronicle. "Some of the fellows said: 'If this thing breaks, we'll all go down together.'"
Twenty minutes into the game, they did."
The count, roughly 85 souls injured and or killed.
______________________________________
Switching gears a bit; Dumb question. What do a Saint Bernard, a bucket of beer, and a kitty have in common?
Many years ago, I picked up ca. 1900 handled beer mug. "Newman's College"! Too cool to pass up, I figured it was some sort of scholastic thing. On one side of the handle was a portrayal of "California" (Cal.) sporting events. The other side had a portrayal of Stanford, with similar, but different sporting scenes. On the side opposite the handle was the scene with the St. Bernard, the kittie and the bucket of beer. Near the base on this side, it was inscribed, Famous Panting Exhibited - Newman's College / Cor. Eddy & Powell St. San Francisco

Cal".
The biggest draw to me, was the main panel, which pictured "Dewey - the Rescuer" (a Saint Bernard) World Champion Blue Ribbon Winner. St Bernard." I'm a sucker for dogs and cats. But the graphics on this one were over the top. Dewey (the St.Bernard) sitting obediently with the cat at his feet. And a bucket, of what could only be beer, on the right rear.
______________________
Charles and Layo Newman were doing business as Charles Newman & Co, and were proprietors of the Russ House on Montgomery St., between Bush & Pine - San Francisco, in 1906.
Their enterprise went up in smoke early in the morning on April 18th of that year, courtesy of the Great Earthquake and Fire. I found no record of them in either the relief or temporary directories that were published in 1906 as the rebuilding of San Francisco got under way.
Newman's College Inn (Inc) was registered as a corporation on August 6, 1906, in Oakland Cal., with capital stock in the amount of $25,000~. In 1907 the Walter Fry directory lists Newman's College Inn (Inc.) as a cafe and grill in Oakland, California at 1011 Broadway. It was also listed under "Liquors - Retail" in the same directory, at the same address. The firm was owned and operated by Charles and Layo Newman, previously of the Russ House.
The 1909 S.F. Crocker directory lists Newman's College (liquors) at 1 Polk St. I found listings for the San Francisco location in the business directories through 1918. However, the Oakland location does not appear in any directory after 1909, indicating that they had permanently relocated to San Francisco and closed the doors to the Oakland location.
Newman's College Inns were the early day for-runner to the "sports bars" of the 21st century. And they capitalized on the rivalry between Stanford and Cal. The Newman brothers obviously saw the value of advertising. One advertising piece manufactured for them is a hard board giveaway in the shape of a football.
A College Inn token is documented to exist, along with two embossed pumpkin seed flasks (one two cities and one that is just embossed with the Oakland address); these in addition to pint and half pint ornate beer mugs. All but the token carry a football as the prominent theme.
I recently acquired a Newman's go-with from the same source as the BT&P Oak Run minis. This acquisition is also a mini, complete with original contents. It is embossed Newman's / Colleges / San Francisco and Oakland. Dating it is a no-brainer since the only year that both locations were concurrently in operation was 1909. One of the amazing things about this mini, besides it's extreme rarity, is that it is a figural. Shaped like a turn of the century football, it even has lacing on the reverse side, opposite the embossing. In many respects, it is a glass duplicate of the hard board giveaway.
Sadly, all good things must pass. Regardless of how popular and successful Newman's Colleges must have been, nothing lasts forever. In Newman's case, the swan song proved to be the Volstead Act and subsequent prohibition. Roughly ten years after the concept of the sports bar was envisioned, the doors closed forever.
Thanks to the vision of Charles and Layo Newman, we have some amazing football themed rarities to seek out, and hopefully add to our collections.
Posted by

Kentucky Gem
at 2:51 PM
6 comments